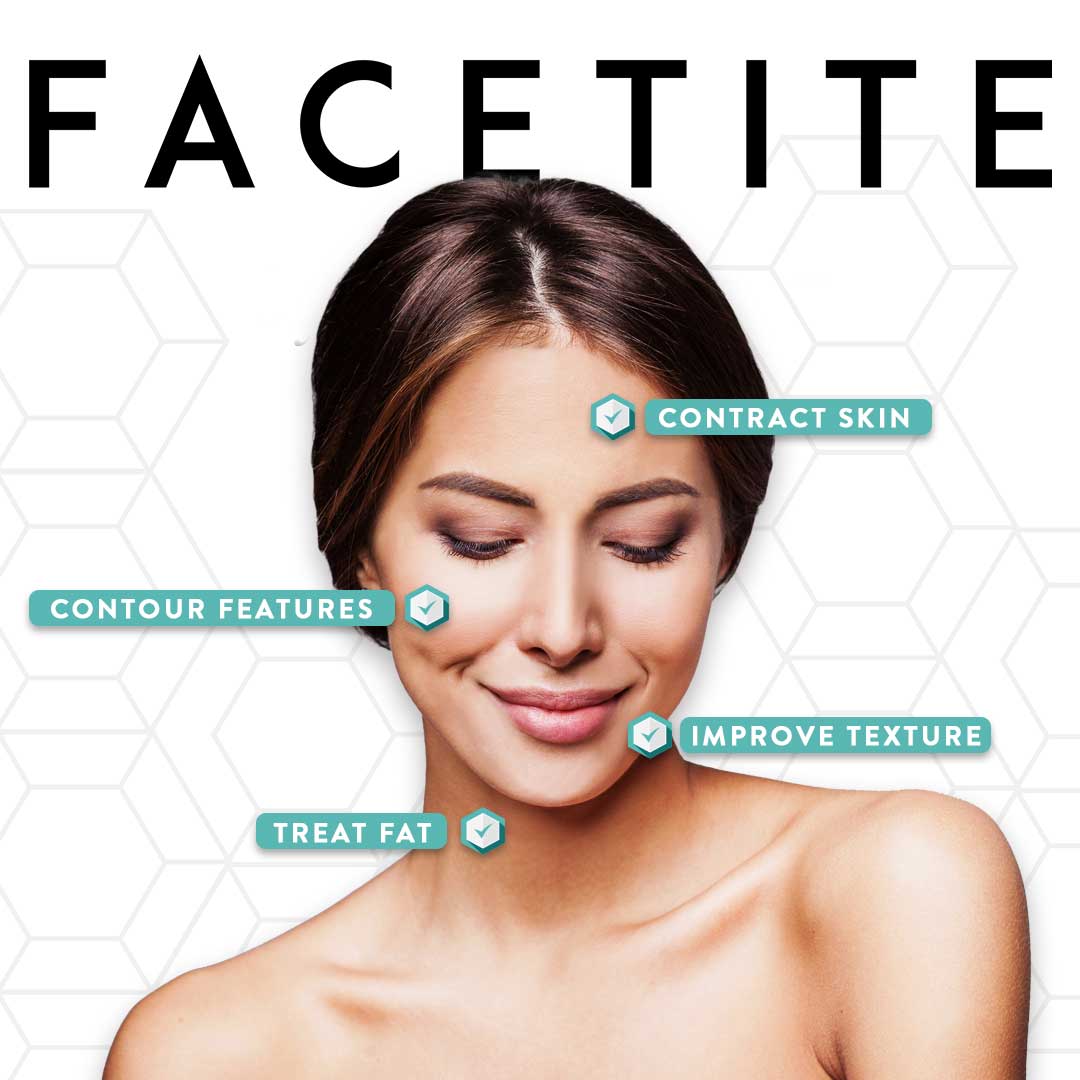 FaceTite™ 
FaceTite™ 
FaceTite

™
FaceTite ™ is a revolutionary skin tightening device that can lift the upper, mid, and lower facial features to restore a youthful-looking appearance.  For patients experiencing facial laxity due to aging, sun exposure, or other environmental factors, FaceTite™ offers a minimally invasive solution that can achieve natural looking results.  FaceTite™ utilizes state of the art radio frequency (RF) technology to target underlying facial tissues to firm the tissue, tighten the skin and stimulate collagen production. This procedure can address various area of concern in one treatment, including the midface, chin, and neck. It is designed to be minimally invasive, with minimal scarring and no stitches required.  
What can

Facetite

™ do for me?
Tighten sagging skin around the upper, mid and lower face, as well as the neck

 

Encourage the production of new collagen to improve underlying skin structure

 

Restore youthful contours to the brows, upper cheeks and jawline

 

Achieve long-lasting improvements to your facial profile

 

Firm loose skin with minimally invasive surgical techniques

 
™Who Is

A

Candidate For

FaceTite

™

?
FaceTite™ is an ideal treatment for people who aren't ready for a surgical facelift or neck lift but whose skin is too loose to have liposuction to remove unwanted fat. Candidates for FaceTite™ are: 
Individuals with age-related changes on the face and neck who are active, motivated, and healthy

 

Women and men with unwanted wrinkles and pockets of fat in the lower face and neck with only mild to moderate loose skin

 

Patients who have already had a facelift or neck lift and want to tighten skin that becomes lax over the years

 
How Long Will My FaceTite™ Results Last?
FaceTite™ results can last from 3 to 5 years, and there are complementary procedures you can undergo to prolong your results. The procedure doesn't have an expiration date at which results disappear. However, gradually the effects of time and gravity will continue to affect your skin and you will see sagging and other signs of aging reappear. 
Is The Treatment Safe?
The device has many built-in safeguards to ensure safety. The proprietary technology used for both Accutite™ and FaceTite™ regulates skin temperature and depth of treatment, among other things. Additionally, in the hands of an experienced, board-certified facial plastic surgeon like Dr. Polacco, this nonsurgical treatment is exceptionally safe.