Sarah Davis
Sarah Davis
Meet Sarah Davis
Executive Director.  Salon Partner Owner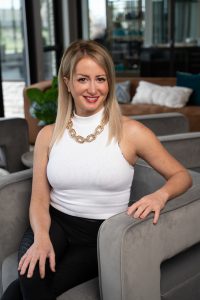 Sarah Davis has been in love with the art of hair styling, coloring, cutting and makeup since… well, forever… but it's been official since 2006. Sarah has her BA in Art from the University of Iowa and puts her artistic passion into creating great hair and makeup. Sarah believes that it is more than just technique that makes for a great experience. What she really treasures is the opportunity to connect with each guest. She believes that is what makes her chosen profession so special, to help people feel great and look great and be a tiny part of their life and that is a true privilege.
Sarah is dedicated to improving everyday and never losing the inspiration to be better. Doing great hair and makeup, providing her guests with an unparalleled experience.  Leading, growing and supporting our righteous, Revitalize U team. Connecting with family and friends and trying to have as much fun as possible. to live everyday.  Spreading joy & cultivating creativity are her passions.
What truly motivates Sarah is her beautiful family: 3 outstanding kiddos and her dedicated and supportive husband. She loves her family, time with friends, laughing,  enjoying the outdoors (but not sleeping in it),animals, a new challenge, good food, great music and great wine.
Education
AA Cottey College 2003
BA Univerity of Iowa 2009
Cosmetolgy License 2005